The BEAUTY guide
Reading time: 4 min
NEW:
the cleaning gel and its eco-refill
digitalized lockers

At Melchior & Balthazar, transparency, authenticity, your well-being and that of our planet are our priorities.
This is why we have created a cleaning gel and its eco-refill with a concept of digital deposit. The goal is to drastically limit our consumption of plastic.
Recycling is good but now REUSE!
A SIMPLE goal:
limit OUR and your ecological impact
2,3 million in 1950, 162 million in 1993, 448 million in 2015! This exponential growth is none other than that of the tonnage of the world production of plastic waste. The cosmetic sector contributes to the accumulation of this type of waste. The purchase of products with short consumption cycles such as soaps, shampoos, toothpastes is more questioned.

This is why we have created:
Eco-charging and its digital deposit!

In addition to a traditional product with real cosmetic virtues, Melchior & Balthazar offers an innovative digital deposit solution to drastically limit the ecological impact.
HOW DOES MELCHIOR & BALTHAZAR ECO-RECHARGE WORK?
A SAFE & TRANSPARENT LOCKOUT CIRCUIT
-79% CO2 emission per bottle returned instead of being discarded.

The increase in the production of plastic waste is accompanied by environmental pollution whose scope is hard to imagine. Of the 6,9 billion tonnes of plastic waste produced since 2015:

9% has been recycled,

12 were cremated,


79% was simply accumulated in landfills or in the wild.
The main disadvantage of liquid soaps comes from the packaging used to contain the soap itself. After use, the plastic bottle is discarded as waste:

Only a small fraction of plastics is recycled or recycled because unlike glass plastic is poorly recycled. Unfortunately, some plastic packaging is exported to be processed in other countries and some containers end up in the oceans forming continents of plastic or running aground on our coasts. Two levels of pollution are observed at the ocean level: visible plastic objects and invisible plastic particles which then permeate the flora and fauna ...

"5000 billion pieces of plastic are already floating in our oceans"

Some packaging contains some recycled plastic. But once thrown away, the pollution problem is not resolved and even recycled plastic has the same impact ...

"More than 40% of the plastic is used only once, before being thrown away"

Some companies report biodegradable plastics. This does not yet exist today! They themselves are unable to give degradation times for the product or to specify the fate of the particles afterwards.

"Estimates of the lifespan of plastic range from 450 years to infinity. "

That's why at Melchior & Balthazar we organized a deposit on our online commerce circuits. The only effective way to manage the future of packaging.

To create a real virtuous circle by combining economic and ecological interests:

Melchior & Balthazar

offers the return of recharging to its customers

(the good return is offered to you)

Once your refill has been sent,

a 15% discount code is sent to renew your refill purchase



Source figures: https://www.nationalgeographic.fr/le-plastique-en-10-chiffres

NATURAL AND ORGANIC INGREDIENTS FOR TOTAL TRANSPARENCY
ORGANIC ARGAN OIL
Argan oil leaves the skin soft and truly nourished. It is a wonder for sensitive and dehydrated skin.
Orange blossom essential oil
This essential oil is renowned for its soothing and relaxing properties. It is a journey to the heart of the Orient.
ORGANIC COCONUT OIL
Rich in saturated fatty acids, this oil nourishes and prevents dehydration of the skin. It leaves a soft touch on the epidermis.
ORGANIC CASTOR OIL
This oil has anti-wrinkle and anti-stain properties. It also helps treat eczema, herpes, stretch marks and burns.
Olive oil
It is an oil with anti-aging and moisturizing properties. It helps reduce certain skin scars and prevent aging and the appearance of wrinkles.
Vitamin E
Powerful antioxidant, vitamin E neutralizes the excess of free radicals present in the body. It also helps stimulate the production of collagen. The skin is strengthened.
Vegetal glycerine
Glycerin is a colorless liquid which protects the skin from external aggressions and irritations. It forms an invisible protective layer which limits their impact on the epidermis.
THE natural cleansing GEL and its eco-refill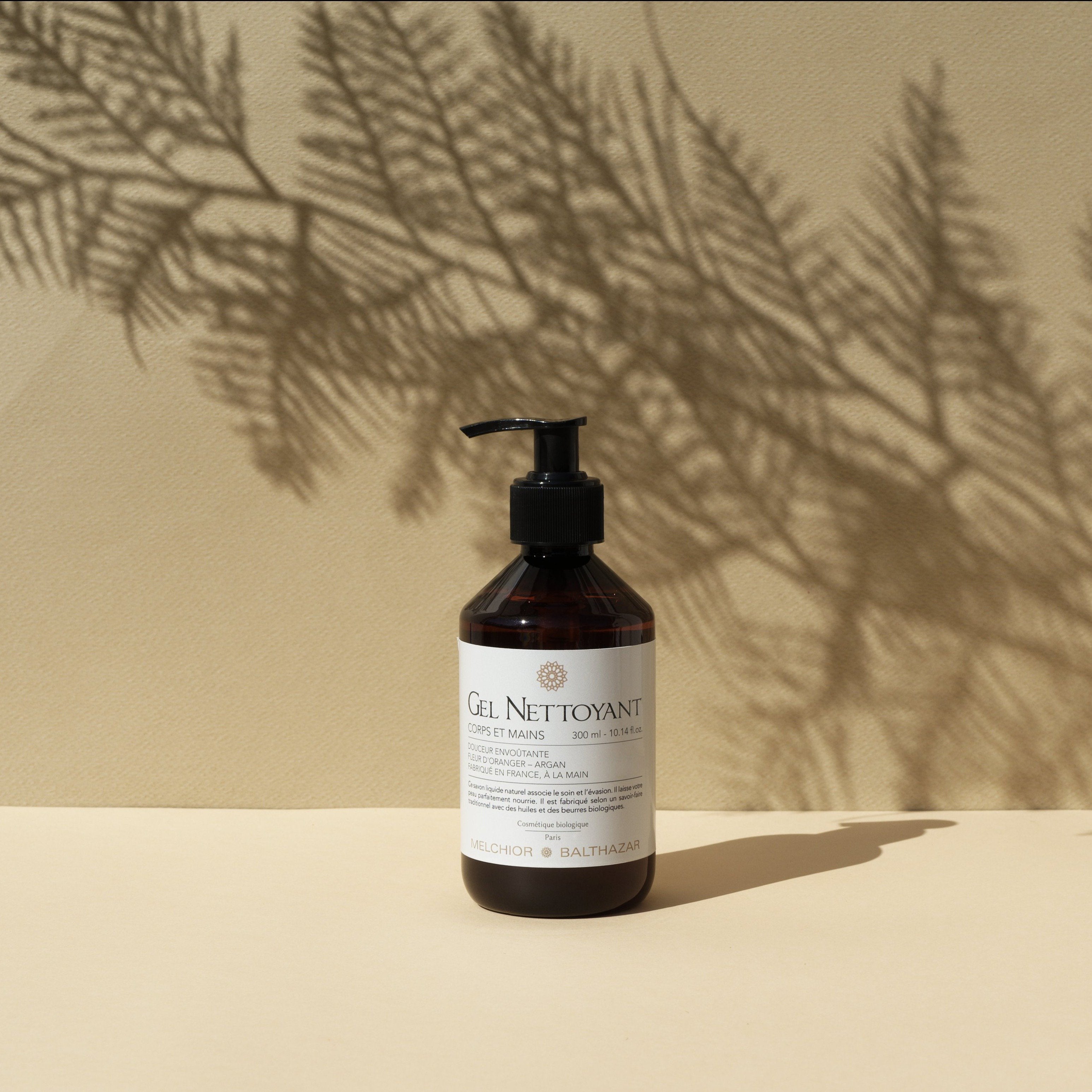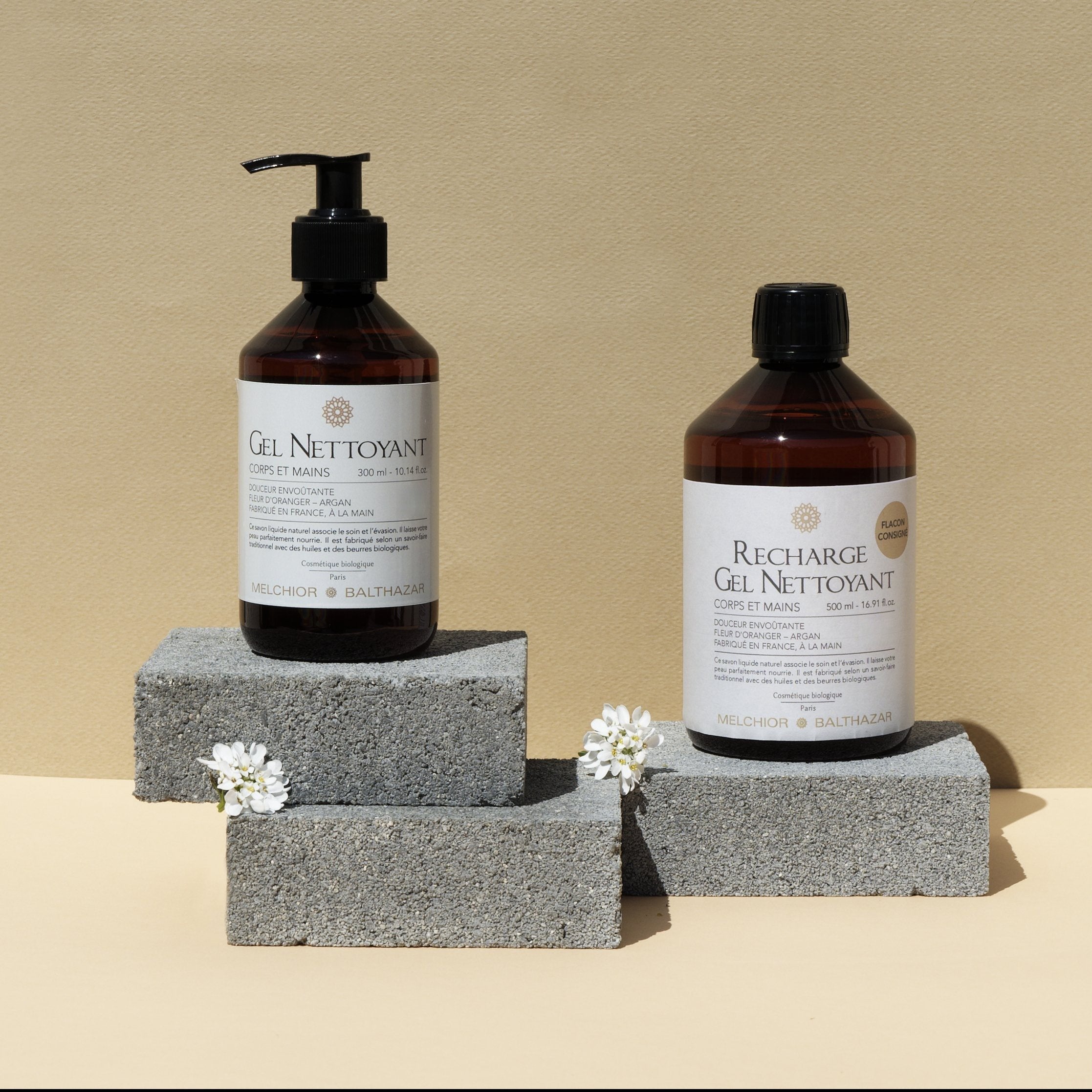 Natural Cleansing Gel - Orange Blossom
€25,00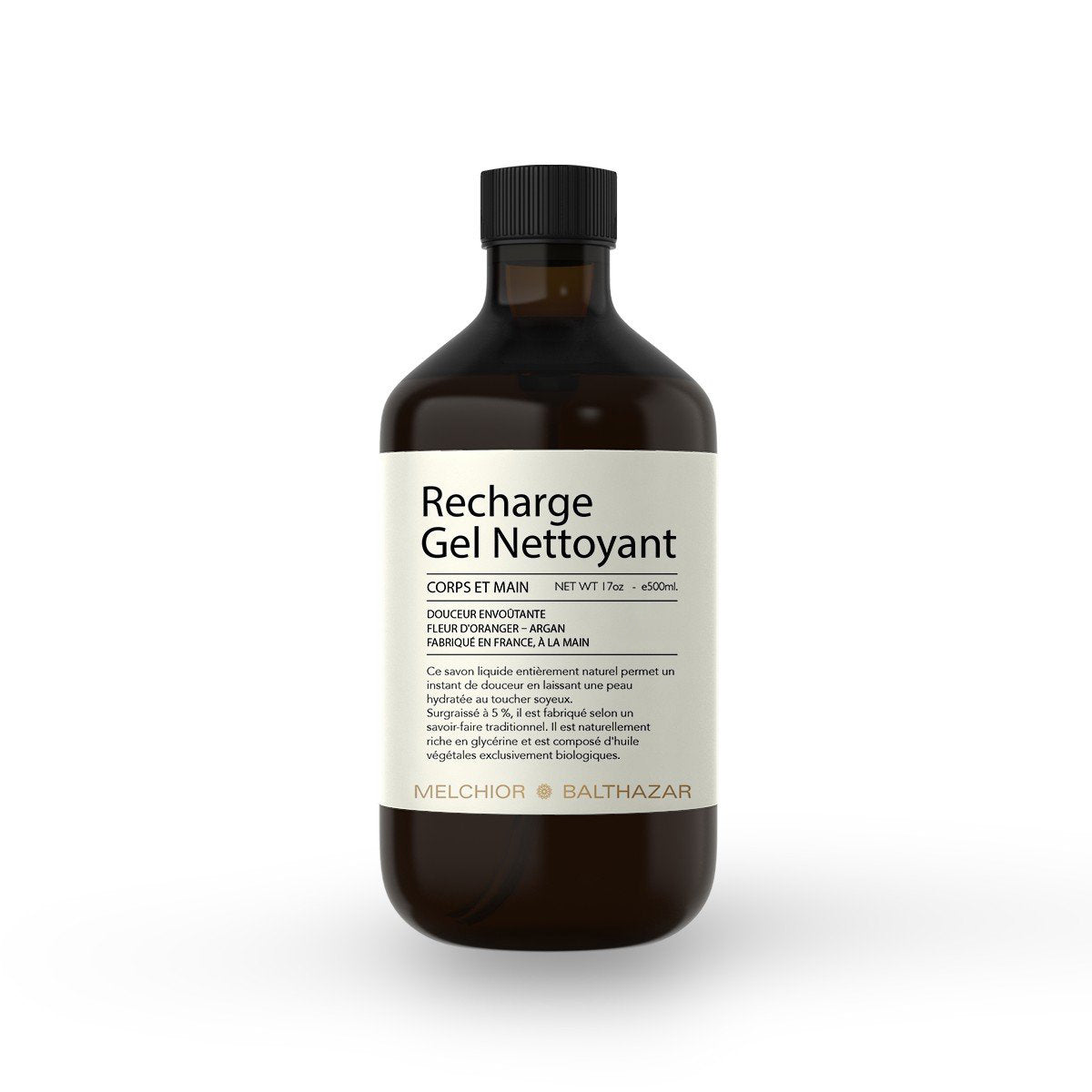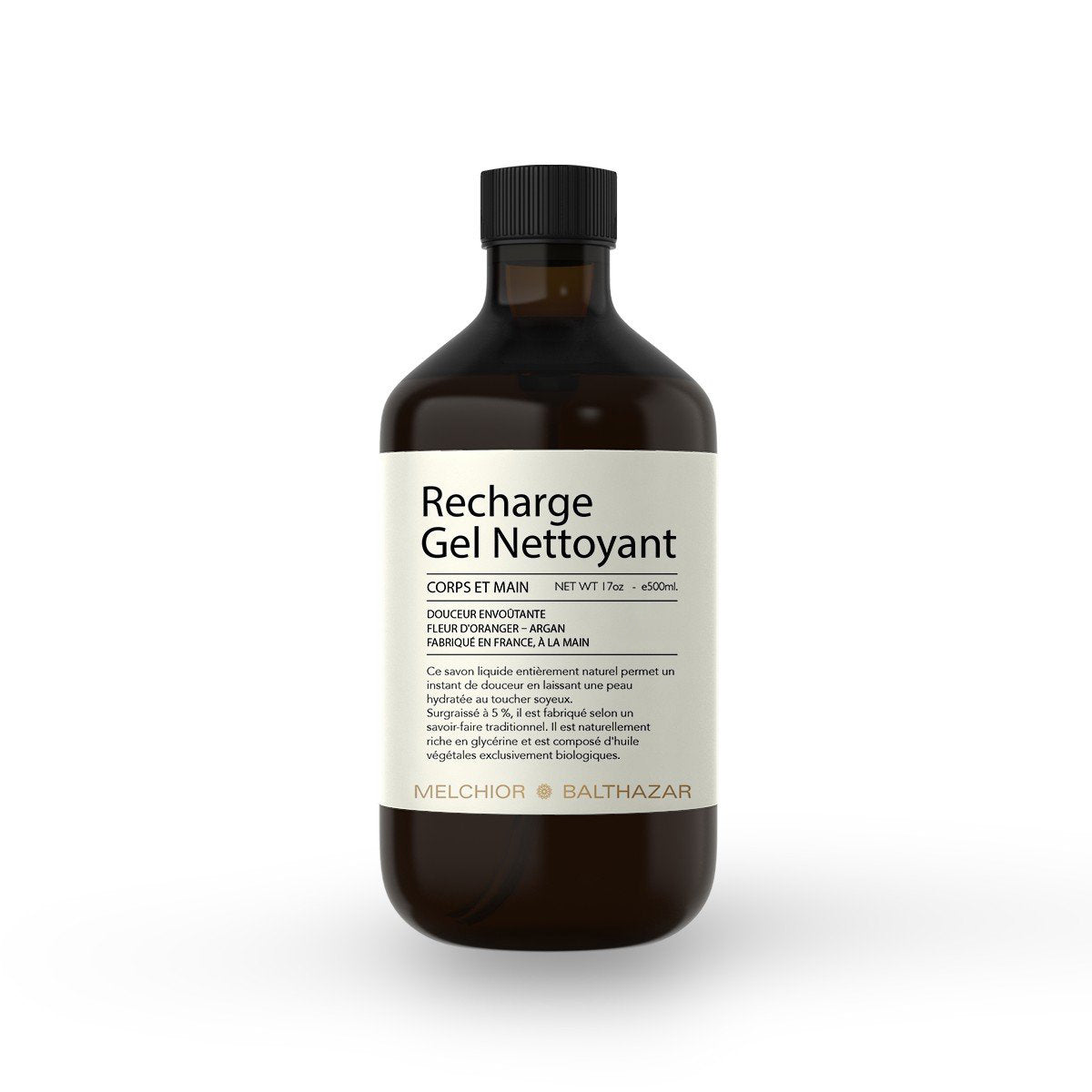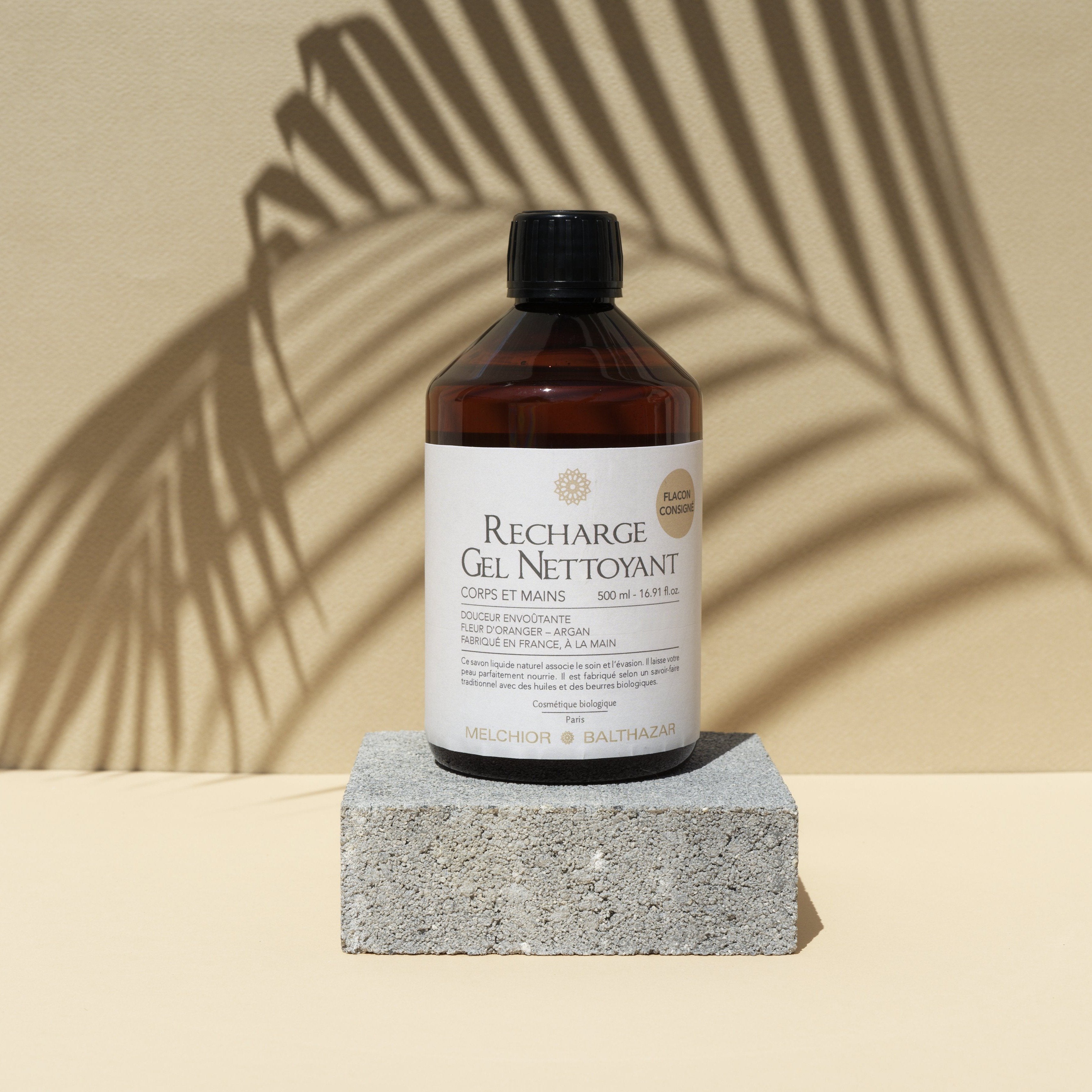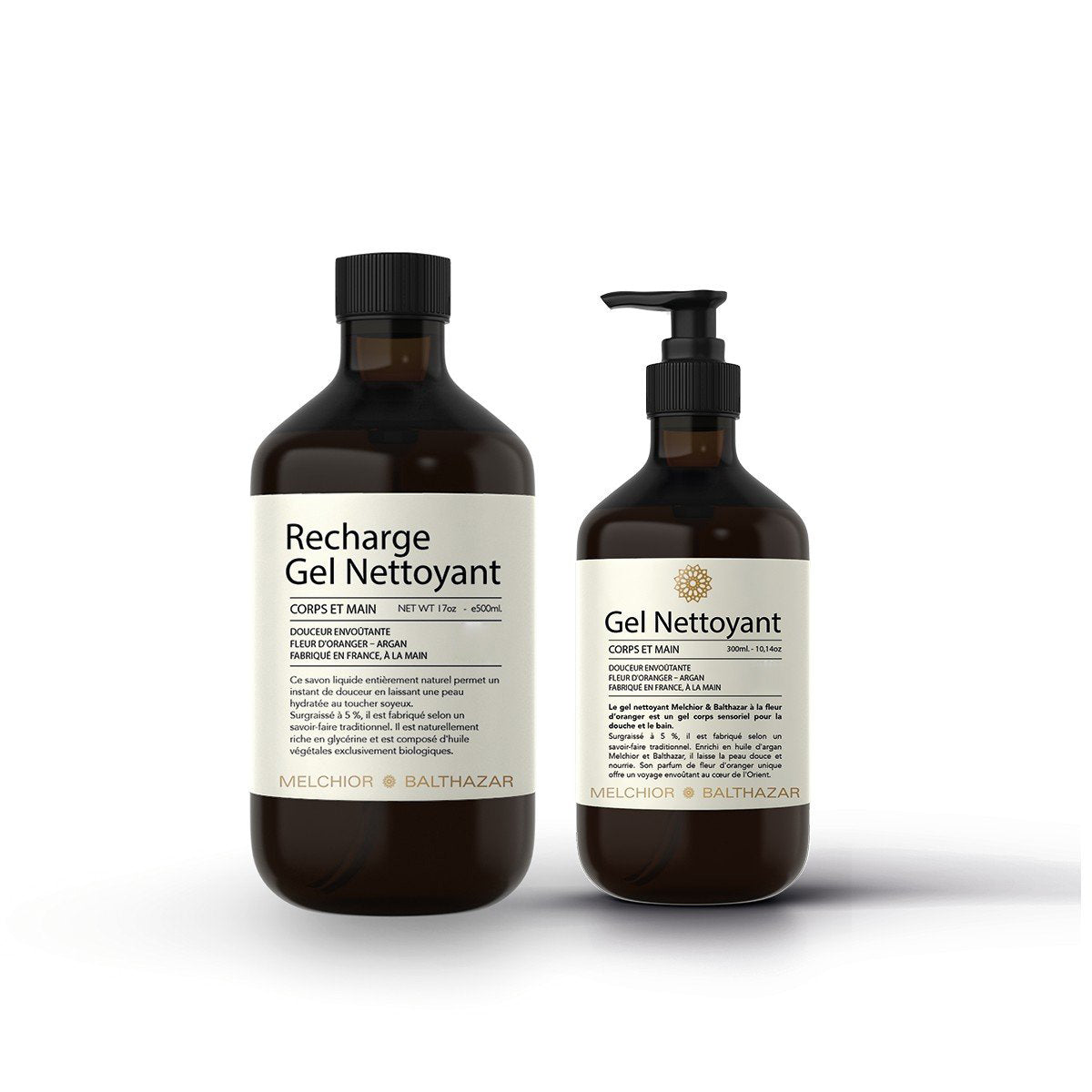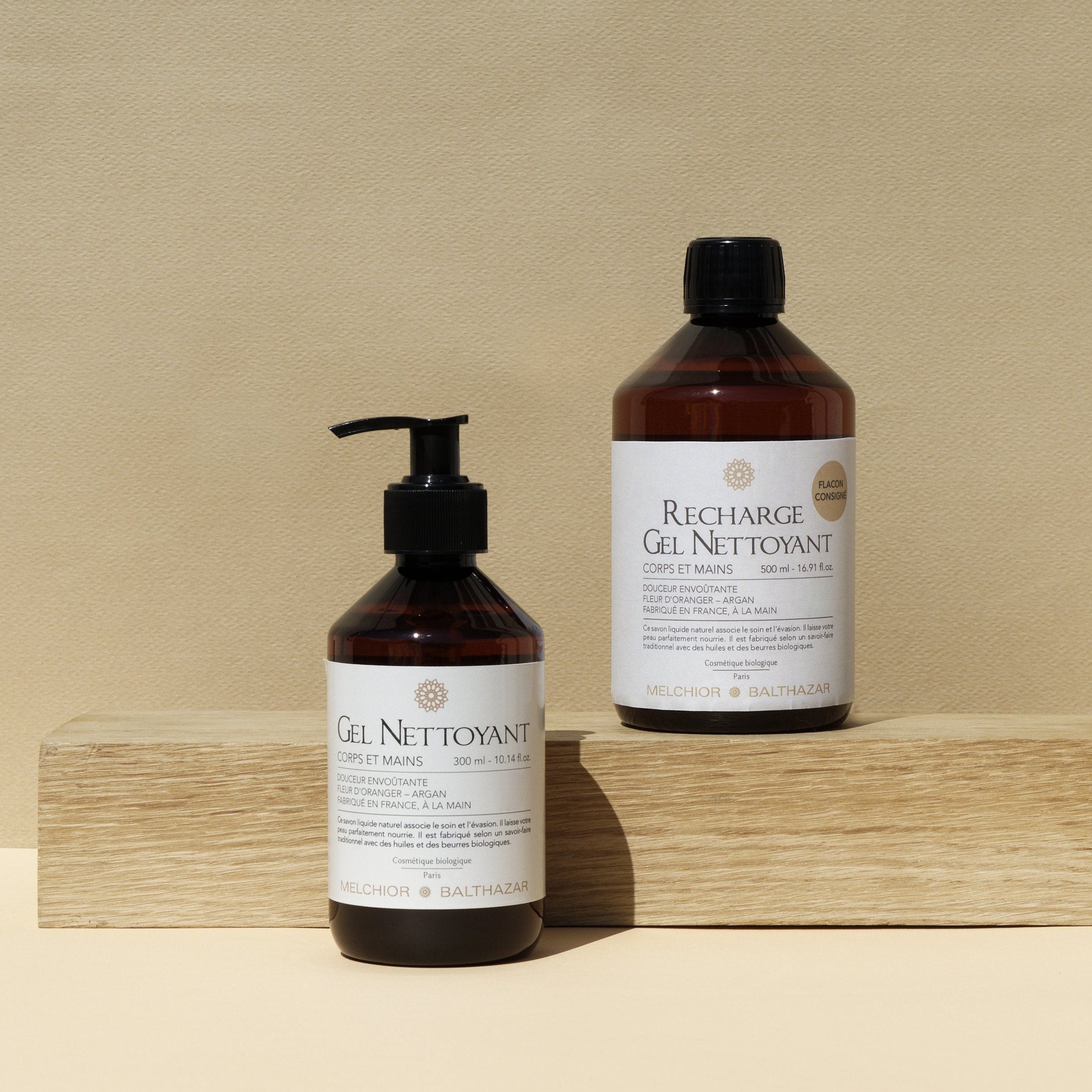 Eco-refill Natural Cleansing Gel - Orange Blossom
€37,00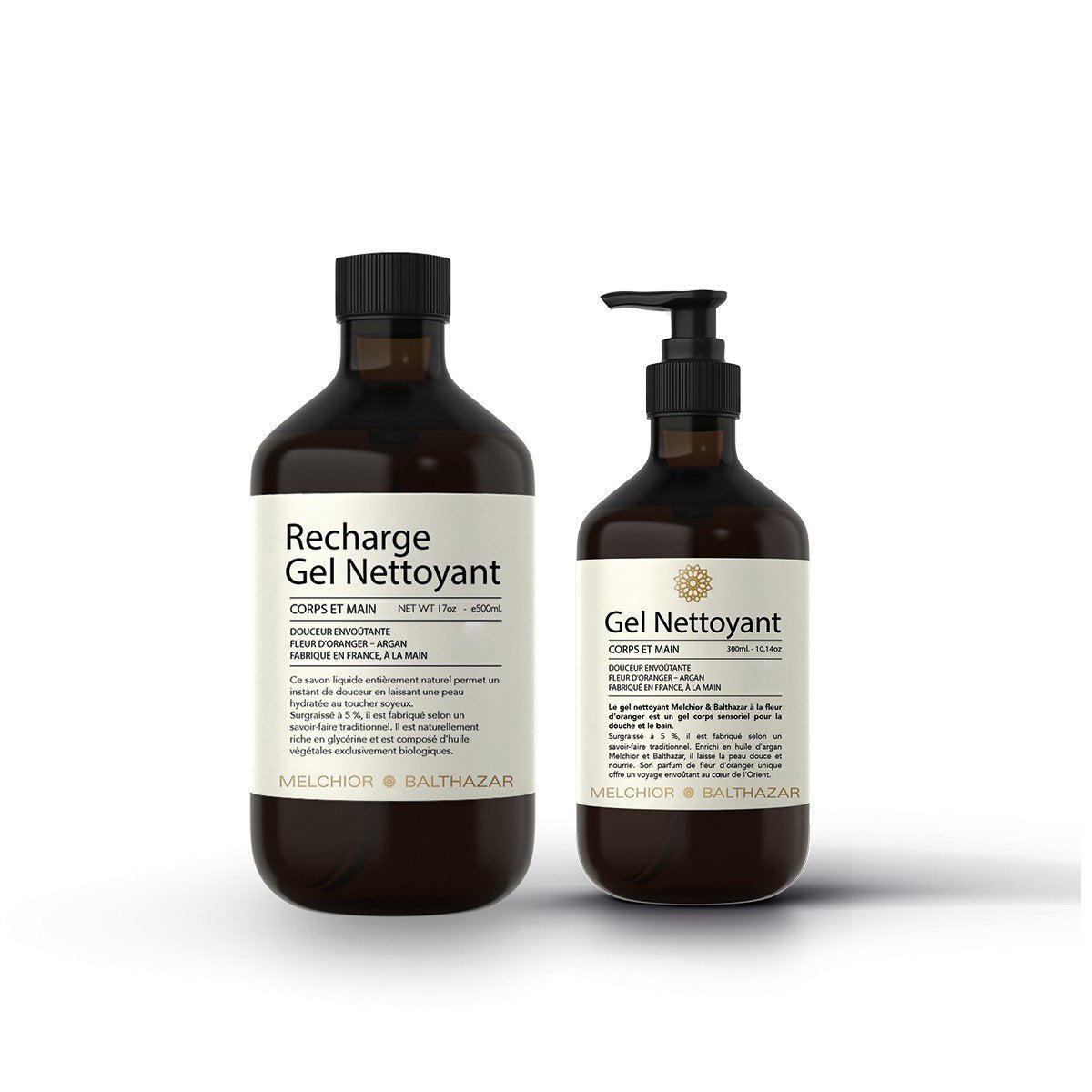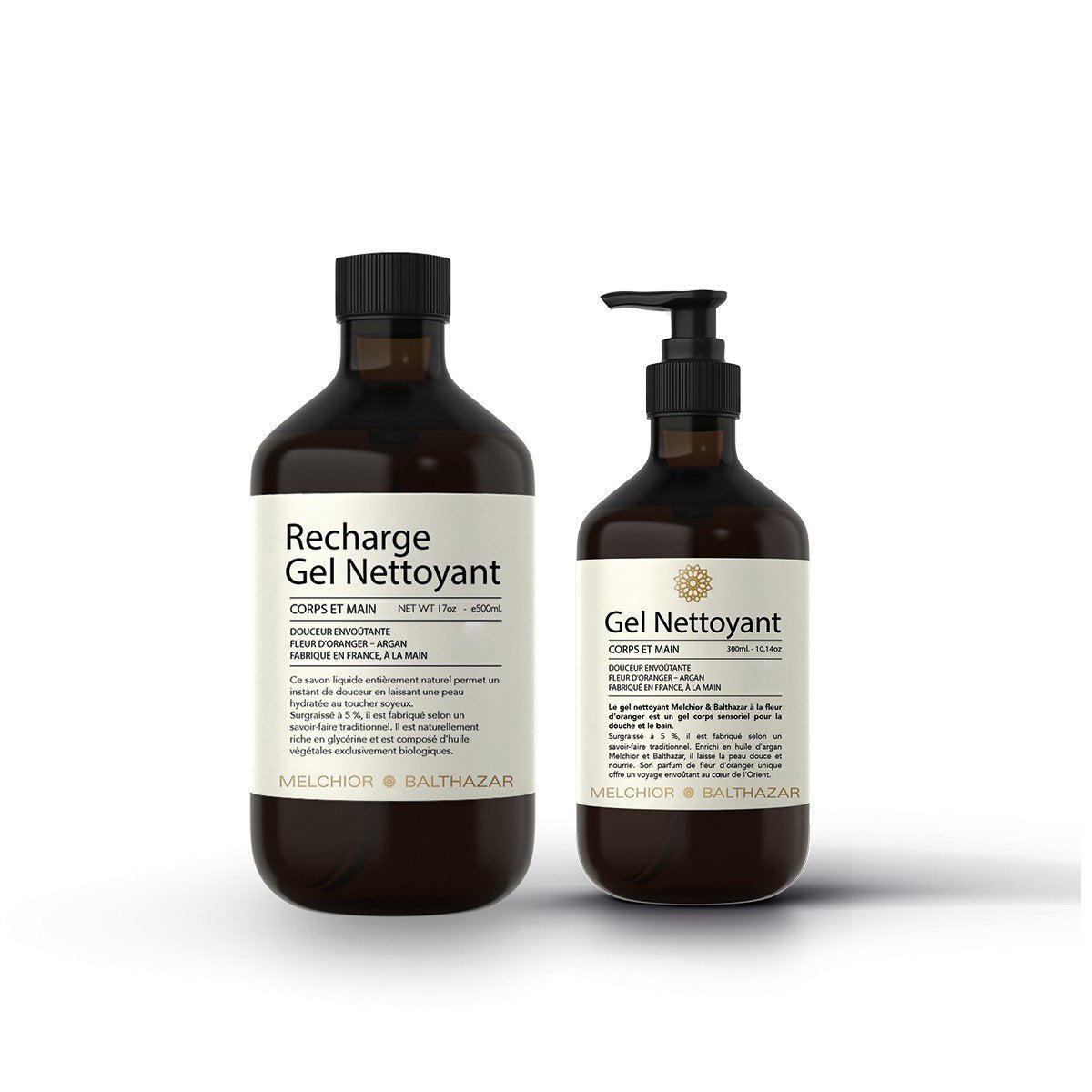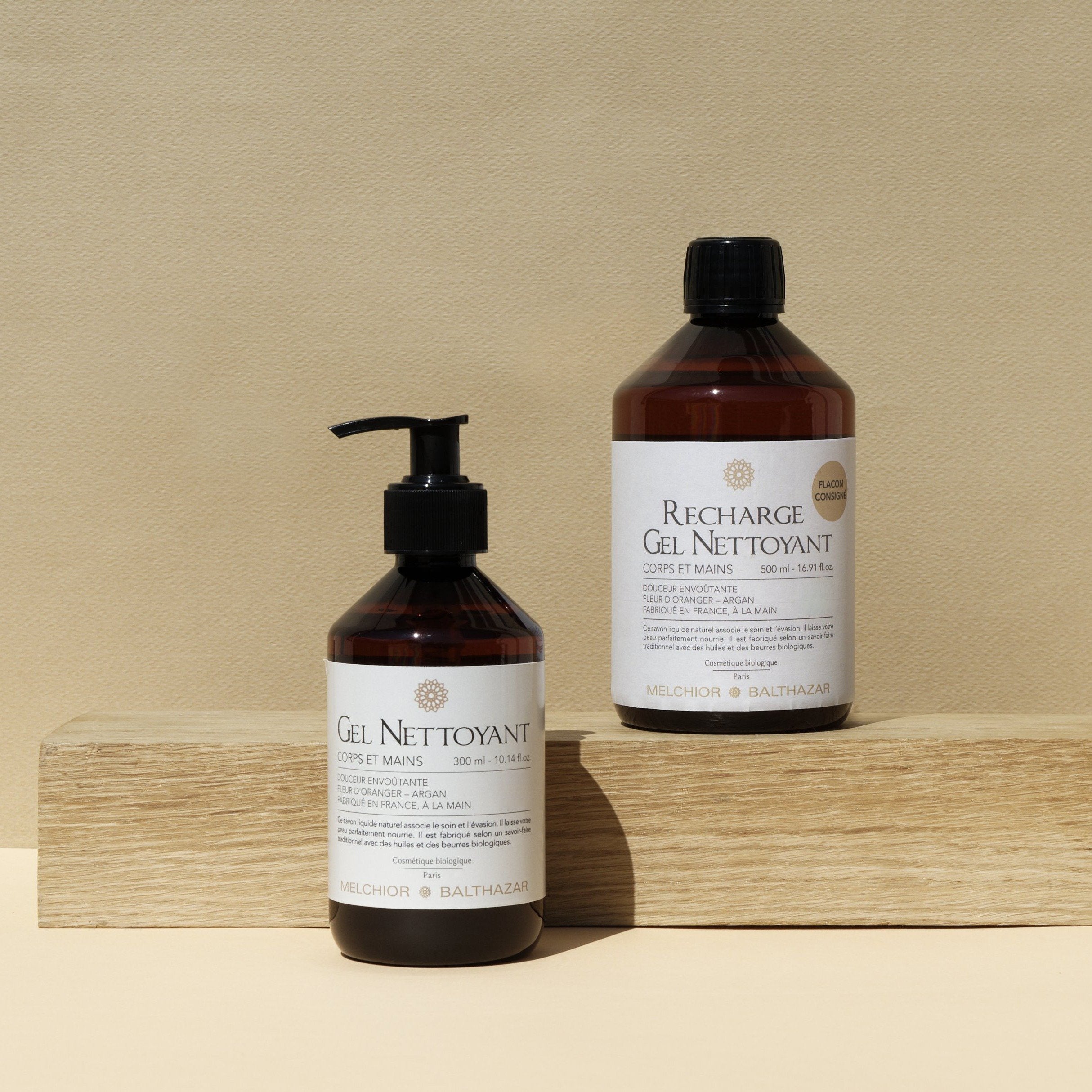 Natural Cleansing Gel + Eco-Refill Pack - Orange Blossom
€55,00
Subscription to the Melchior & BaLTHAZAR newsletter
Subscribe to the Melchior & Balthazar newsletter to receive our beauty tips, news and exceptional offers.